GRRRRR! WHAT ARE YOU ANGRY ABOUT?
VENT HERE: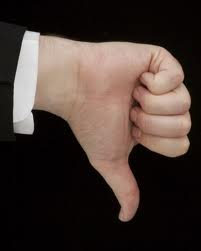 (Sent 12-4-12) AVOID THIS RESTAURANT: Owner is RUDE!
MONET CAFE: 7050 W. Palmetto Park Rd.- #31 -iin "the Garden Shops'- Boca Raton, FL 33433 Two of us decided to eat a late and light bite (2:30pm) before a late dinner at Monet Cafe yesterday, Tuesday, December 4. the place looked cute.So, we shared a dish called "Crepes Mermaid" consisting of a salad, and 2 crepes filled with baby shrimp,
Neptune crabmeat (imitation), white cream sauce for $11.50. I ordered REGULAR coffee which was fancily named "Cafe Au Lait" (coffee with milk) for $3.50. We sat outdoors on their patio and lingered so I ordered a refill of coffee. When the bill came, it should have been $15 but it was $18.50.We tried to get the attention of our waiter (owner Jean-Louis Quellier) but he was constantly busy inside on the phone. When finally we questioned, he said there was a sharing charge. He became irate and asked why we didn't see it written on the bottom of the right page of the menu. "DON'T YOU READ ENGLISH?" he shouted and stormed back in to the restaurant to talk on the phone again. We didn't see it, we said, or perhaps we would have ordered something else to use up the charge. " Don't insult me," he ranted. "YOU GOT A FREE CUP OF COFFEE; I SHOULD HAVE CHARGED YOU FOR A REFILL." He said if we weren't happy we shouldn't come back to which we replied, "we weren't planning to!" We purposely did not leave a tip and as we walked away, HE SHOUTED "CHEAP PEOPLE" to us! What a rude way to treat customers! WE WILL NEVER GO BACK!
__________________________________________________________________________________
New Complaint: Sent on 11 / 14 / 12-
Margaret Morse Israel Tours 2012?….. Think Again
Perhaps at one time this was the tour to go on. This is no longer the case. Although our tour guide was excellent, not all tour guides were equal. Specifically, a tour guide left people on his bus standing in blistering heat with no seating to deliver his history speeches. He was arrogant when approached with problems.
All Margaret Morse tour buses are cramped. I'm 5' 2" and had little leg room. The tour bus didn't even provide a pocket to hold bottled water or purchases made. In order to store your items you would need to share what little seating space you do have with the rest of your items.
Now comes the hotel and food portion of the magnificent Morse tours. Besides having cattle buffet lines for 2 1/2 weeks, the special dining events were nothing short of amazing. Dining with Druid Arabs that grabbed food off buffet tables with their hands left me wondering why reservations were made at this kibbutz motel/hotel. When I complained to Robyn Morse regarding people taking food off the buffet with their hands, Robyn responded with, surely I must have eaten at a buffet where people did that before!…… HUH? Do sanitary conditions and cleanliness have any consideration here?
I, somehow for the most part, had decent rooms, but beware! Margaret Morse does not provide all travelers with equal rooms. Some travelers were put up in the old tower at the kibbutz with dirty, torn
bedding and facilities that did not work. Refunds are being requested. In one of the rooms I shared with another female, the bathroom was so small, that we felt it necessary to complain for a larger bathroom to Wendy Morse. Wendy's response was, that we should not use the bathroom at the same time. Second HUH???? Eventually we were given a suite when we reminded Wendy we are from the Fort Lauderdale area where Margaret Morse operates her bookings from. We were just told not to tell anyone, when in fact other people did receive suites for reasons unknown.
Another magnificent dining experience was at an all-you-can-eat menu for $10.00. That meal mostly had diners begging for food. Why would this place be recommended?
There were 2 dining out experiences that were paid for by Margaret Morse Tours. All were falafel and greasy kabobs, The last and least "special dining event" that was touted in Margaret Morses itinerary was held in a little ghetto Mediterranean restaurant in Tel Aviv on our last night there. This" special event "was quite a hilly hike for seniors. The buses could not get down the narrow hilly streets so we were told to get off the bus and walk to the restaurant on a dark graffiti ridden street.
The owner of that restaurant was out and out nasty and ordering people
where to sit.
I would like to end my review with a kudos for my bus driver Akiv, who landed us safely to every event, and my tour guide Allan, who did a great job guiding,
I just don't know if you would be better off spending the same $$$ elsewhere.
Lauren Adler