What's There To Do This Month (and Next)?               
                                         

   

                                               

                                                                                                                                                                                                                                              MAY 20 to 31    
          (AND SCROLL DOWN FOR

JUNE

)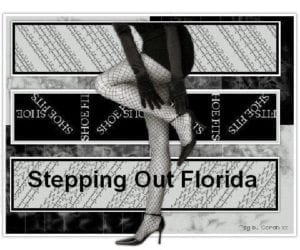 __________________________________________________________________________________________
MAY 20 to 31
May 20 to 24-Bokamper's and The Balcony Honor Those Who Serve The Community – Discounts and Memorial Day Event-Bokamper's and The Balcony are offering 20 percent off food for teachers &  nurses (May 6-10), police  (May 13-17) and Emergency Medical Services (EMS) professionals during designated weeks:
EMS Week (Monday, May 20–Friday, May 24): Must show valid EMS ID to receive discount May 20–24.
In honor of Memorial Day, all Bokamper's locations (Fort Lauderdale, Miramar, Plantation, Naples and Estero) will be accepting donations in exchange for a message card that will be displayed in-store all month long. Bokamper's Fort Lauderdale location will host the 5th annual Memorial Day Remembrance Heroes Tribute on Monday, May 27 from 5:30–7 p.m. The event will include a parade, tribute video, American flag folding ceremony and more. For more information about the May specials or to find out more about Bokamper's Sports Bar & Grill and The Balcony, call Bokamper's Sports Bar & Grill at 954-900-5584 or The Balcony at 754-200-6344.
May 21-"Light Up The Night"-Hosted by Jr. Achievement of South Florida-6pm to 8:30pm-Cost: $125-Join us for an evening under the Banyan trees at The Addison with tasty bites, great networking and live entertainment. Honorees will be honored for giving back to the community. 2019 Honorees: Michael Daszkal, CPA, Daszkal Bolton;  Ingrid Fulmer – Coldwell Banker Commercial NRT;  Scott Zankl, EXCELL, Auto Group;  Tickets are $125 per person (includes open bar, hors d'oeuvres, entertainment and one specialty cigar). For more information, contact Kellie Hensley at 954-979-7124, email Kellie@nullJASouthFlorida.org or visit JASouthFlorida.org/LUTN.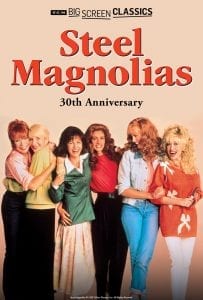 May 21-Steel Magnolias (The Film's 30th Anniversary) -Six icons of the silver screen – Sally Field, Dolly Parton, Shirley MacLaine, Daryl Hannah, Olympia Dukakis and Julia Roberts – come together in this hilarious and heartwarming story of life, love and loss in a small Louisiana parish. At the center of the group is Shelby, newly married and joyfully pregnant, even though her diabetes could make childbirth life-threatening. Terrified at the possibility of losing her only daughter, M'Lynn looks to her four closest friends for strength and laughter as she battles her deepest fear of death to join Shelby in celebrating the miracle of new life. A classic story of family, strength in women, and big southern hair, the big screen is the perfect way to experience the Magnolia's Louisiana charm and celebrate 30 years of Steel Magnolias. Check local theaters for listings.

May 22- Spring Business Trade Expo-4pm to 8pm-Held at The Greater Fort Lauderdale Broward Convention Center, 1950 Eisenhower Blvd. | Second Floor, Fort Lauderdale

May 22-East Delray Business Expo-FREE and Open to the Public-4pm to 7pm-Trade Show & Networking Event-Presented by the Greater Delray Beach Chamber of Commerce-Location: Delray Beach Arts Garage-94 NE 2nd Avenue-Delray Beach 33444  Contact: Cheryl 561-278-0424 x105  For more info:  www.delraybeach.com
                                                                                    MAY 24 to 27

Memorial Day is always on the last Monday in May and was originally a day set aside to honor the Northern Civil War soldiers that died.
                                                    Today, Memorial Day celebrates fallen soldiers of any war.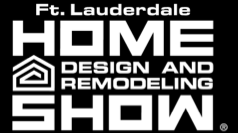 May 24 to 27-(Memorial Day weekend)-The Fort Lauderdale Home Design and Remodeling Show-All are invited to meet Carson Kressley of Bravo TV's Get A Room with Carson and Thom and Queer Eye for the Straight Guy and visit the featured Interior Designers at their stylish room vignettes. Additional special event features include: lifestyle seminars; Family Day art activities; and A Taste-full Experience food and wine pairing demo.Held at The Greater Fort Lauderdale Broward County Convention Center, 1950 Eisenhower Blvd, Fort Lauderdale, FL 33316  For more info: www.homeshows.net or  305-667-9299 @FLHomeShows Instagram & Twitter; FloridaHomeShow on Facebook  Hours: Friday 4:00 – 9:30 p.m.; Saturday 12:00 – 9:30 p.m.; Sunday 12:00 – 9:30 p.m.; Monday (Memorial Day) 12:00 – 7:30 p.m.; Purchase tickets online by Thursday, May 23rd and SAVE $3.00. Admission: $10.00 adults; $1.00 children 11 and under, available online and at the Box Office.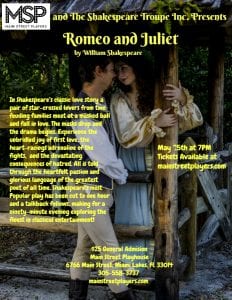 May 25-William Shakespeare's Romeo & Juliet- Presented by Main Street Players and The Shakespeare Troupe- 7pm;  In Shakespeare's classic love story, The Tragedy of Romeo and Juliet, a pair of star-crossed lovers from two feuding families in Verona, Italy, meet at a masked ball and fall in love. Masks drop and the kissing begins. All is told through the heartfelt passion and glorious language of the greatest poet of all time. Shakespeare's most popular play has been cut to one hour and is performed by a group of seven actors from the Shakespeare Troupe of South Florida, fresh from their school tour of the play. A talkback follows making a 90 minute evening exploring the finest in classical entertainment. Tickets are $25; Tickets available online or at the door. Box office opens 60 minutes before showtime. To purchase online, CLICK HERE; Held at 6766 Main Street, Hialeah 33014
May 25- Coconut Grove Wine & Food Festival-1pm to 9pm–Experience the area's top restaurants while sipping fine wine and spirits- Festival goers will enjoy food samplings from local restaurants including: Ariete Restaurant, Harry's Pizzeria, Flanigan's, Monty's In the Grove, Mayfair Kitchen, and many others. There will also be bites from local caterers and bakeries, samples of craft beer, culinary presentations, fine wine, and spirits. Throughout the day there will be a Harley Davidson exotic motorcycle showcase, live music, a kid's zone, waiter's race, and more. Other activities include the wacky funny Waiter's Race! Come watch at 6pm front stage as some of Miami's fastest waiters run thru an obstacle course without spilling a drop. Cash prizes will be given out 1st, 2nd and third prize. Also, we invite you to bring your dog to participate in the Pet Contest. At 6pm near PetSmart Booth. Trophies will be given out for Mutt and Master Look A Like: Best Dog Trick and Best Costume, Best of Show. Tickets start at $25 for general admission $75 for exclusive VIP, with a couple's VIP package available for $125. There's Also a Grovite Deal, where $40 includes entrance to the festival and four drink tickets. All military and first responders have free entrance and a Free Drink on us. Please show your badge or ID.  Held at Regatta Park, 2700 South Bayshore Drive, Miami, FL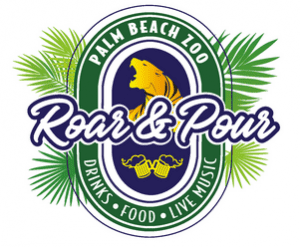 May 25-Roar & Pour (Every 4th Saturday of the month till August)-A Fun Event! The whole Zoo is open to explore with Roar & Pour admission starting at 4:30 pm. The Tiki Bar opens at 5:00 pm with beer, wine, and a tap take over with local breweries. This year food will be served at the Tropics Cafe Snack window opening at 5:00 pm with burgers, dogs, and more! Bands take the stage from 6:30 pm – 9:00 p.m. Tonight the featured band is "Absolute Queen"! Come hear "Bohemian Rhapsody"!   PalmBeachZoo.org    Located at 1301 Summit Blvd., West Palm Beach, FL 33405  (also on June 22, July 27 and August 24)
May 25-A Taste-Full Experience: Pairing Possibilities-3:30 PM – 4:30 PM-Held at The Greater Fort Lauderdale Broward County Convention Center, 1950 Eisenhower Blvd., Fort Lauderdale, FL 33316-Phone:305-667-9299 Cost: $7.00 if purchased before May 23rd; $10.00 after May 23rd; The Fort Lauderdale Home Design and Remodeling Show in collaboration with Sun Sentinel present: A Taste-Full Experience where guests can learn food and wine pairings from the pros. Join Chef Tara Abrams, Executive Chef of Crazy Uncle Mike's and Wine Educator Stefano Campanini of Wine by the Bay for an educational demonstration focused on what wines to pair with an eclectic fusion of flavors and textures. The demo is FREE with an advance, adult admission Home Show ticket and reservation purchased online. Guests must be 21+ to participate. Seating is limited.  Homeshow Ticket Information: For more info, CLICK HERE  and scroll down to register or  305-667-9299 Purchase tickets online by Thursday, May 23rd and SAVE $3.00. Admission: $10.00 adults; $1.00 children 11 and under, available online and at the Box Office.
May 25 and 26-The 22nd Annual Downtown Delray Craft Festival-Paintings, jewelry, glass work, pottery, and much more line the streets for a must-see event. The Delray Beach Tennis Center is where you'll meet some of the nation's finest crafters and shop their handmade wares. A Green Market with gourmet sauces, handmade soaps, along with live orchids completes this fantastic festival. Saturday & Sunday, 10am to 5pm-At 201 W. Atlantic Avenue, Delray Beach 33444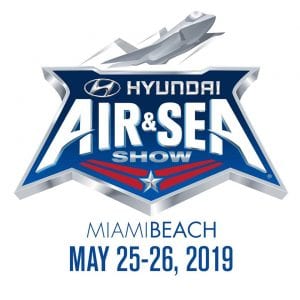 May 26-The National Salute to America's Heroes -International Pop Sensation "FLO RIDA" will host a live performance concert as the grand finale of the 2019 Hyundai Air & Sea Show in Miami Beach. (The Hyundai Air & Sea Show takes place on May 25th and 26th.) Starting at 4:30pm, multiple acts will take the stage including Young Musicians Unite, the U.S. Army's "As You Were" Band, the U.S. Air Force "Max Impact" Band, the U.S. Air Force Honor Guard Drill Team, and will be headlined by Flo Rida, who takes the stage at 8:00pm for a one-hour Live performance. The show will culminate with a special night-pyro parachute demonstration by the U.S. Army Golden Knights Parachute Team kicking off a spectacular fireworks extravaganza. The 2019 event is expected to be even more exciting with a larger spectator viewing area (there were 100,000 spectators in 2017) and a free to the public Display Village, Action Zone, and Kids Zone, all located between 11th and 14th Streets along Ocean Drive and includes interactive displays from military service branches and corporate partners. Tickets are available for $45  as a Hyundai Air & Sea Show and Music Explosion ticket combo, or $25 for the Music Explosion only. They can be purchased in advance at www.USAsalute.com.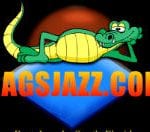 May 26-Dixieland/Hot Jazz Session- Featuring Glyn Dryhurst's Dixieland Jazz Band; 1:00 – 4:00 pm-Presented by the Hot Jazz & Alligator Gumbo Society (HAGS); Admission: $5 members,  $10 non-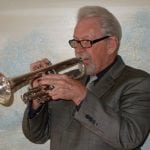 members; Phone: 954-651-0970 Website: www.hagsjazz.com  Held at The Boca Raton Shrine Club, 601 Clint Moore Road, Boca Raton, FL 33487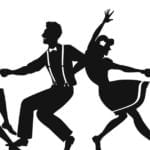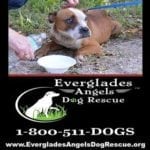 May 26-Everglades Angels Dog Rescue-– 10:00 a.m. to 3:00 p.m. – Fundraiser and Adoption Event-All proceeds for salon services will be donated to EADR;  Raffle Baskets and Adoptable Dogs will be at the event!  Location: Mavo Hair Lounge; 819 N. Federal Highway, Fort Lauderdale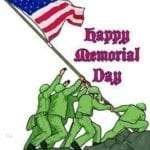 May 27-Memorial Day Concert- FREE EVENT–Doors open at 5pm-Concert from 7pm to 9pm-Blankets and chairs are welcome at this free event, and chairs will also be available to rent for $5.00 (free for veterans). There is limited free parking for Veterans in the lot adjacent to the amphitheater. No coolers or outside alcoholic beverages permitted. The event is rain or shine. At Mizner Park Amphitheater, 590 Plaza Real, Boca Raton
May 27-Bokamper's Honors Those Who Serve The Community With A Memorial Day Event– In honor of Memorial Day, all Bokamper's locations (Fort Lauderdale, Miramar, Plantation, Naples and Estero) will be accepting donations in exchange for a message card that will be displayed in-store all month long.  For a $5 donation, guests will buy a Veteran a beer, receive a message card to be displayed in-store all month long and receive a Bokamper's Memorial Day koozie. As a result of the $5 donations, Veterans will be served one free 16 oz. beer on Memorial Day, Monday, May 27. Identification is required. Bud Light or Budweiser draft only. Bokamper's Fort Lauderdale location will host the 5th annual Memorial Day Remembrance Heroes Tribute on Monday, May 27 from 5:30–7 p.m. The event will include a parade, tribute video, American flag folding ceremony and more. For more information call Bokamper's Sports Bar & Grill at 954-900-5584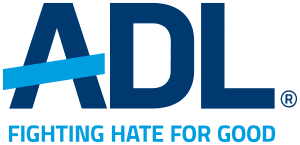 May 29-ADL (Anti-Defamation League) Connects Boca Raton Networking Event-6:00-7:30pm; Artists Guild Gallery – 2910 N. Federal Highway, Boca Raton, FL 33431 Admission: $20/person includes beer, wine, and heavy hors d'oeuvres;  (This event is free of charge for current GLI members (Glass Leadership Institute) and their guests-RSVP to Eric Ross at (561) 988-2944 or ERoss@nulladl.org   (The AntipDefamation League's mission is to fight Anti-Semitism and Hate, and secure justice and fair treatment to all. For more info: click here)  Please share this event with your friends and colleagues on Facebook.
May 31-Classic Albums Live performs The Beatles Abby Road-Remember when you used to listen to an entire album? When flipping the vinyl meant you were in store for more greatness? Founded in 2003, Classic Albums Live has quickly earned a stellar reputation for perfectly recreating classic rock albums in its entirety, reproduced to be as true to the original recording as possible, and without costumes or impersonators. Classic Albums Live performs note for note and cut for cut some of the greatest rock albums ever made. Relying only the music, without all the gimmickry and cheesy impersonations, Classic Albums Live uses some of the world's best musicians to re-create live productions of landmark recordings. The concert includes the Abbey Road LP performed in its entirety followed by a set of Beatles classic hits. At the Casino at Dania Beach-Doors open at 7pm; Show time at 8pm- 18+   CasinoDaniaBeach.com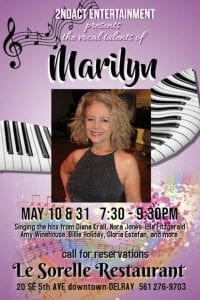 May 31-2nd Act Entertainment Presents the Vocal Talents of Marilyn-7:30pm to 9:30pm-Singing the hits from Diana Krall, Nora Jones, Ella Fitzgerald, Amy Winehouse, Billie Holiday, Gloria Estefan and more-At Le Sorella Restaurant, 20 SE 5th Avenue (Downtown Delray-formerly Rocky's)-561-276-9703  Call for Reservations (and also on May 31)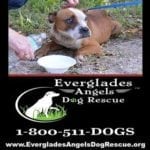 May 31-Everglades Angels Dog Rescue-7:00 p.m. to 10:00 p.m. – Dogs, Beaches and Brews. Bring your dogs anytime beginning at 5:00 p.m. to meet and socialize with other dogs on the beach. The dog beach is at A1A and Sunrise Blvd and north. Then walk on over to the World Famous Parrot Lounge! The party starts at 7:00 over at Parrot Lounge.Free drink with $5 donation to EADR; We will also be doing a cruise raffle! Location: World Famous Parrot Lounge, 911 Sunrise Lane, Fort Lauderdale
___________________________________________________________________________________
JUNE
  STEPPING OUT FLORIDA
June 1-The 2nd Annual Soul Seafood Festival-This is a Summer Kickoff Family Event in Lake Worth. Enjoy more Seafood, more Live Entertainment, more Family Fun! The kids will be fresh out of school and ready to wear you out, so bring them to the Fun Zone and beat them to the punch. Enjoy delectable seafood made with a touch of soul. Our line-up will have everyone partying with a purpose while celebrating the rich cultural heritage from different musical genres, and highlight the many local Soul and Seafood Restaurants specializing in Caribbean, Soul and Seafood Delicacies. Walk off the good eats while exploring vendors displaying Arts & Crafts, Health and Wellness tips and more-Cost: $10  Held at 100 South Golfview Road,  Lake Worth 33460, For more info, CLICK HERE  or 954-394-1164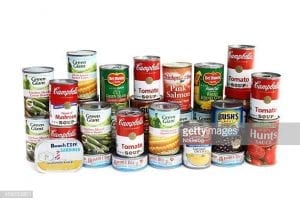 June 1 to 31-"Move for Hunger" Food Drive; We aim to help the 1 in 6 children in America who go to bed hungry each night! Help feed the local community by donating any non-perishable, canned food items at our location; All food will benefit the Boca Helping Hands Food Bank; 11 Plaza Real South, Suite 714, Boca Raton   For more info: Call Dawn:  561-789-4844 or MoveForHunger.org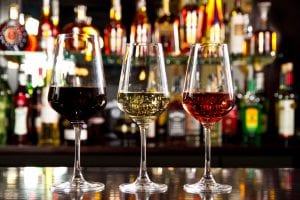 June 5-Wine Down Wednesday at III Forks Prime Steakhouse in Palm Beach Gardens-(Held the first Wednesday of every month)- Take flight each month to the world's most venerated viticultural meccas;  Tonight from 6 p.m. to 8 p.m., the celebrated steakhouse and chef-sommelier Tommy Nevill will lead guests through Sonoma wine country with a lively and interactive discussion about the highlighted vintners, their winemaking practices, grape characteristics, and more. Tonight's wine menu: 2017 Captûre, Sauvignon Blanc, Sonoma County;  2016 La Crema, Chardonnay, Sonoma Coast;  2014 Hartford Court Land's Edge, Pinot Noir, Sonoma Coast; 2014 Matanzas Creek, Merlot, Sonoma County; 2014 Arrowood, Cabernet, Knights Valley;  2015 Stonestreet, Cabernet, Alexander Valley  The cost is $25 per person and features six wine pours accompanied by a selection of signature hors d'oeuvres crafted by chef Tommy Nevill. Guests staying for dinner or après-event drinks at the bar will be treated to a 50% discount on featured wines by the glass or bottle. Reservations are required.For more information or to make a reservation, call  561-630-3660 or visit 3forks.com/palmbeachgardens.  III Forks is located at 4645 PGA Boulevard in Palm Beach Gardens. Hours are Monday through Thursday, 5–10 p.m., Friday and Saturday, 5–11 p.m., and Sunday, 5–9 p.m.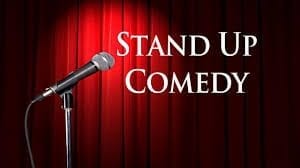 June 5-The Brewery Comedy Tour-At Barrel of Monks Brewing Company in Boca-Laughs are on tap for this nationwide tour that promises to hit 300 breweries across the U.S. More than a dozen New York and L.A. stand-ups are currently on the road, sampling the local fare, local brews and providing the finest and funniest in comedy entertainment. This stop at Barrel of Monks Brewing in Boca is set to feature a lineup whose credits include top festivals, TV and major club appearances. (Future dates: July 3, August 9, September 6) At 8pm- For more info. and tickets, CLICK HERE:    http://www.herronentertainment.com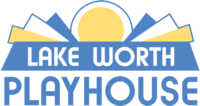 June 5 to July 24-Adult Beginning Acting – 8 weeks-Taught by Daniel Eilola of Lake Worth Playhouse-Ages 18+ Cost: $225; Overview: This class introduces students to acting for the stage through improv, scene study and monologue preparation. This 10-week class is designed to focus on the fundamentals of the craft. The class highlights methods to make your performance more natural and spontaneous. No experience is necessary. A great start for the beginning actor!  To register, please call the box office at 561-586-6410; For more info., visit our website at   https://www.lakeworthplayhouse.org/welcome/adult-classes/ Find us on Social Media: Facebook: www.facebook.com/lwplayhouse     Twitter:  www.twitter.com/LWPlayhouse About us: Lake Worth Playhouse is a non-profit community theatre with a diverse array of offerings, including award-winning dramas, comedies, musicals, area premieres, Broadway favorites, children's shows, ballets and operas on film, live concerts, improv comedy and alternative programming. In addition to its main stage theatrical fare, the Playhouse presents year-round independent and foreign films in the Stonzek Theatre, an intimate black-box style theatre equipped with a large viewing screen and high-definition projection. The Playhouse is proud to offer a variety of educational programs for adults and children, as well as community outreach initiatives that bring cultural programs into the neighborhoods of underserved youth and also make theatre available free of charge for disadvantaged citizens in the community.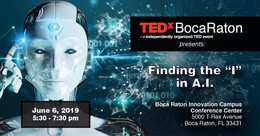 June 6- TedX Boca Raton-Subject: A.I. (Artificial Intelligence)-5:30pm to 7:30pm-Whether you recognize it or not, Artificial Intelligence (AI) has become integrated into our daily lives. AI is revolutionizing the way companies engage with customers, compete with each other, and grow in the marketplace. But the line between computer software and AI systems is opaque. And can machines really demonstrate intelligence? Join us for a discussion with our expert panel on the fundamentals of Machine Learning (ML) across a variety of disciplines. Learn how AI is fueling powerful ways to help companies get closer to their customers and share knowledge in an informative, effective and personalized exchange. Includes: Speakers, networking, refreshments and lite bites. Admission: $10 Limited tickets available.  For more info., CLICK HERE or call 561-271-8210. Held at Boca Raton Innovation Campus, 4920 Conference Way N,  Boca Raton 33431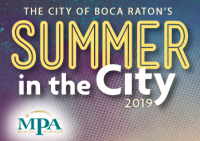 June 7- Battle of the Bands-FREE EVENT; Sponsored by The City of Boca Raton; Doors: 6:00 PM, Battle: 7:00 PM; Kicking off the Summer Series, Mizner Park Amphitheater and The City of Boca Raton will host a Battle of the Bands! $1,500 cash grand prize for each category: Teen competition and 20+ competition
June 8- Frog Alley Caribbean Festival- 6pm to 9pm-Come dressed in your favorite Caribbean fashions, bring your flags and help celebrate the art, culture, history and vibe of the West Atlantic neighborhood in conjunction with National Caribbean-American Heritage Month! Admission is FREE! Activities include: Entertainment on 2 stages:Brian Haddis, Code 3 Reggae Band and Digital Vibez, Rythmtrail  Junkanoo Band; Spady Museum Juneteenth Celebration – storytelling & sweetgrass basket sewing; Village Market-type art, clothing and jewelry vendor; s Activities and outdoor games including Dominoes, giant Jenga, cornhole, Wax Hands station and photo booth; Kids Pirate Ship;  Authentic Caribbean Food from vendors and businesses including Sweet's Sensational, Ceasar's Jerk & Famous Ribs, Leagcy of Frog Alley Ancestors, Inc., Out of Many Foodz Cafe & MORE!  Held at Libby Wesley Plaza, Atlantic Ave. & SW 5th Ave., Delray; Contact:   dda@nulldowntowndelraybeach.com  or 561-243-1077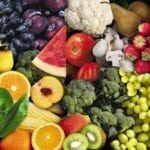 June 9-New Farmer's Market in Boca– Boca Center will be hosting monthly Farmer's Markets in the courtyard the second Sunday of every month  from 10am-2pm, you will be able to shop from your choice of 15+ local vendors. Enjoy a variety of fresh produce, handmade products, organic juices and more!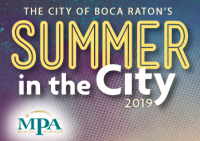 June 14- The Caribbean Chiller- Jimmy Buffet Tribute Band-FREE ADMISSION: Doors: 6:30 PM, Battle: 7:30 PM;Free and Open to the Public; Seating: Bring a chair or blanket, chairs will also be for rent inside for $5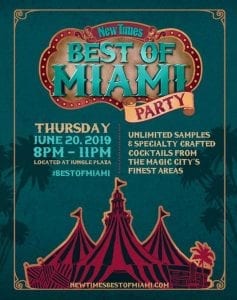 June 20-Best of Miami Party-8PM – 11PM at Jungle Plaza, Miami Design District! Guests will enjoy unlimited food samplings, sip on specialty cocktails from Miami's best, and so much more! Participating restaurants include Growler USA Wynwood, Los Tanitos, San Bernardo Ice Cream, Shimuja, Shokudo, Giardino Gourmet Salads, and more! Held at Jungle Plaza, 3801 NE 1st Avenue, Miami, FL 33137 Tickets are $50.  To purchase, CLICK HERE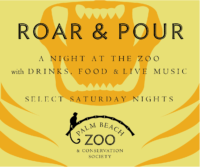 June 22-Roar & Pour (Every 4th Saturday of the month till August)-A Fun Event! The whole Zoo is open to explore with Roar & Pour admission starting at 4:30 pm. The Tiki Bar opens at 5:00 pm with beer, wine, and a tap take over with local breweries. This year food will be served at the Tropics Cafe Snack window opening at 5:00 pm with burgers, dogs, and more! Bands take the stage from 6:30 pm – 9:00 p.m. Tonight the featured band is "Absolute Elton John"! Come hear "Tiny Dancer," "Candle in the Wind", "Rocket Man", Benny & The Jets" and more!   PalmBeachZoo.org    Located at 1301 Summit Blvd., West Palm Beach, FL 33405  (also on June 22, July 27 and August 24)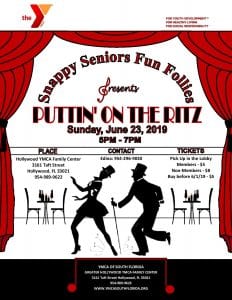 June 23-Snappy Seniors Fun Follies Presents Puttin' On the Ritz-5pm to 7pm-At the Hollywood YMCA Family Center, 3161 Taft Street, Hollywood 33021 Phone: 954-989-9622  Tickets: Pick up in the Lobby; Members: $5;   Non-members: $8   Buy before June 1: $5   Contact: Edina  954-296-9030