COSTLY (and CHEAP!)  NEW YEAR'S EVE EVENTS!!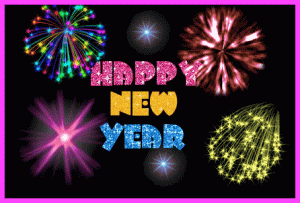 Pavilion Grille
"It Takes Two" Band / Dinner Show
7:30pm-New Year's Eve Party-Come on in and enjoy the fabulous music by "It Takes Two" Band- Start the New Year with a fun celebration of great music and fine dining! Enjoy a Four Course Dinner that includes Party Favors and Champagne for only$99 plus tax and service charge;  Doors open at 7:30pm. Reservations REQUIRED. Limited Seating. Safety precautions will be in place. MASKS ARE MANDATORY. Dancing with Masks will be monitored for safety away from tables. Call 561-912-0000 for reservations or more information. Pavilion Grille, 301 Yamato Rd, Boca Raton, 33431, is located in the lobby of the Seeman Holtz Building located on the NE corner of the intersection of Dixie Hwy and Yamato Road, and has distinctive large glass sides. FREE parking in the lot or garage and enter the lobby to a wonderful world of music and dancing.  www.PavilionGrille.com    What a great place to dine, dance, mingle and celebrate!
______________________________________
A Stay At Home / Virtual Option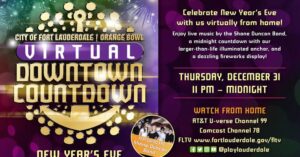 11pm to midnight- Virtual Downtown Countdown by the City of Fort Lauderdale; Enjoy Live Music by the Shane Duncan Band, a midnight countdown with a larger-than-life illuminated anchor, and a dazzling fireworks display!  Watch from home: Comcast Channel 78,  AT&T U-verse Channel 99 or www.FortLauderdale.gov/fltv
_____________________________________________
Virtual Celebration of New Year's Eve in Times Square
Be Part of the Official Ball Drop Celebration!  CLICK HERE
____________________________________________
New Year's Eve Dinner Under the Stars
At Deja Blue Restaurant-7805 N University Drive, Parkland, FL 33076-Four Course Dinner: $146 per person. For more info., Click here
____________________________________________
Dinner at New York Prime in Boca Raton
Regular menu available until 7PM;   Seatings are from 5 – 7:00PM & 9 – 10:30PM  (Reservations after 9PM will have the table for the evening)  Live Music! Party Menu: $149 per person (excludes tax + gratuity) Stone Crabs and Lobster, 3 to 13 lbs. – A.Q.
A credit card is required at the time of reservation. 48-hour cancellation.  New York Prime, 2350 Executive Center Drive,  Boca Raton, FL Call 561-998-3881      https://newyorkprime.com/new-years-eve-boca-raton/
_____________________________________________________
III Forks Prime Steakhouse
4645 PGA Blvd., Palm Beach Gardens. 561-630-3660     3Forks.com
Executive chef Tommy Nevill will create a special New Year's Eve menu; a three-course prix fixe feast and wine pairing loaded with surf-and-turf classics. The New Year's Eve menu is available for dine-in or takeout. The first 25 guests to place curbside pick-up orders will receive a party pack, which includes a top hat, tiara, silver beaded necklace, wine stopper, and a celebratory party horn to toot in the New Year. Additionally, the first 12 to-go orders will also receive a party pack plus a set of two 9 oz. plastic Champagne flutes, perfect for toasting new year's resolutions you don't intend to keep! New Year's Eve hours are 5 p.m. to 10 p.m. Last reservation is 10 p.m. III Forks is closed on New Year's Day.
______________________________________________
Deck 84
840 E. Atlantic Ave., Delray Beach. 561-665-8484. Deck84.com.
New Year's Eve on the waterfront! We will be offering a la carte specials, in addition to the full regular menu. There will be live entertainment on the deck as well as a complimentary champagne toast at midnight. FREE entry all night long! Live Music: Erik Kris and Company, 9:30pm-12:30am      Reservation Policy Dec 18-Jan 3: Credit cards are required. Cancellations within 48 hours will result in a $40/cover charge. Happy hour and other promotions will not be valid from Dec 18-Jan 3.
______________________
The Wick Theatre and Costume Museum
7901 N Federal Highway, Boca Raton. 561-995-2333. TheWick.org.
Lance Lipinksy New Years Eve Extravaganza-"Million Dollar Quartet" original cast member Lance Lipinsky rocks the stage at The Wick. Three spectacular shows to celebrate the Rock Baby Rock rhythm of Jerry Lee Lewis. Early Show with Champagne Toast…New Year's Celebration with Gourmet Dinner and Dancing or The "Hangover Show" on Jan 1st. Limited Seating for each show. On New Year's Eve: 5pm show-$75-Does not include dinner.     Later: Dinner at 8pm, show at 10pm=$250
______________________________
Galuppi's with Studio 54 Band
7pm to 1:00am- 3 different pricing options starting at $69.95-To see, CLICK HERE and click on "See Upcoming Events"-1103 N Federal Hwy., Pompano Beach, FL 33060954-785-0226
_________________________________
Max's Grille in Mizner Park, Boca
Join us for our Annual NYE Party! Enjoy Chef Mike's outstanding a la carte menu specials and live music by My Weekend Therapy; Party favors & Champagne toast. No cover changes for entertainment all night long. Full regular menu will be available.  At 404 Plaza Real, Boca Raton
RESERVATIONS: 561-368-0080 or online: https://www.sevenrooms.com/reserva…/maxsgrillebocaraton/fb
Reservation Policy Dec 18-Jan 3: Credit cards are required. Cancellations within 48 hours will result in a $40/cover charge.
_______________________________________
Kapow & Dubliner Mizner Park
9pm to 2am-Tickets: $75 Premium Open Bar  or $55 Well Open Bar -For more info;  www.kapownoodlebar.com/      or 561- 347-7322
_________________________________________________________________________________________
__________________________________________________________________________________________
NEW YEAR'S EVE DINNERS THAT WON'T BREAK THE BANK!!
Applebee's:  Most Applebee's locations will be open from 11 a.m. to midnight on New Year's Eve and New Year's Day.
Bahama Breeze:  (Fort Lauderdale) In past years, the New Year's Eve party lasted from 9 p.m. to close and featured $2.20 Legendary Island Cocktails, including the Painkiller, Zombie and Killer Bee. Note: Offers and hours may vary by location.
Bar Louie: Last year, certain locations were hosting New Year's 1920's-themed Eve Masquerade parties. Depending on the location, party favors and a champagne toast were provided with admission. Bar Louie was also open on New Year's Day.
Boston Market: The popular chain restaurant (pretty good rotisserie chicken) will be open on New Year's Eve and New Year's Day, but again, confirm with your nearest Boston Market because hours might vary by location.
Buca di Beppo:   (Davie) Enjoy a New Year celebration with family size dishes of Italian food for your group. Most will also be open until 10 p.m. on New Year's Eve.
Buffalo Wild Wings: Wing it. Buffalo Wild Wings will be open on New Year's Eve and New Year's Day. They will have regular hours. For locations, CLICK HERE
Cheesecake Factory: A majority of locations will be open New Year's Eve and New Year's Day. Some Cheesecake Factory locations will stay open until midnight on New Year's Eve for a Champagne toast.
Chipotle: Most Chipotle restaurant locations will be open New Year's Eve and closed on New Year's Day this year. Call your local restaurant just to be sure.
Cracker Barrel: Open! All stores will be available for all the food starting on December 26 through New Year's Eve and New Year's Day.
Denny's: All Denny's locations will be open 24/7 everyday throughout the entire holiday season!
Domino's Pizza: Domino's will be open.
Dunkin': Most locations will be open on New Year's Eve and New Year's Day, but check first.
Hard Rock Cafe:(Hollywood) Several locations are holding celebrations complete with DJs, live bands and sparklers on New Year's Eve. Find your location for details.
IHOP: Celebrating 2021 with pancakes! Check your local IHOP on New Year's Eve since hours may vary by location.
Maggiano's: Most locations will be open for New Year's Day and Eve, but check with your local restaurant to make sure.
The Melting Pot: Celebrate 2020 with delicious fondue and a bubbly beverage or two. New Year's Eve specials vary by location. But most Melting Pot locations open at 1 p.m. to midnight on New Year's Eve, and from 4 p.m. to 10 p.m. on New Year's Day.
Morton's The Steakhouse: Morton's is celebrating on both New Year's Eve and New Year's Day with its standard menu. Reservations are required. (Boca and West Palm Beach)
Olive Garden: This popular family restaurant will be open and offer curbside pickup on New Year's Eve and New Year's Day.
Papa John's: Get 25% off menu-priced items through December 31.
Quiznos: For New Year's Eve, all U.S. customers who buy an 8-inch sub can get one free, and all Canada customers who buy a 9-inch sub can get one free (steak subs are excluded.) Until February 20, 2021, customers can get free delivery with Uber Eats with a $10 order, plus customers can also get 20% off a first-time Quiznos order with DoorDash with a $15 minimum order.
Ruth's Chris Steak House: (Boca & West Palm) Make a reservation, and feast on special celebration menu items, including Garlic Herb Crusted Filet and Live Maine Lobster. You'll also get two glasses of Veuve Clicquot brut "yellow label." Starts at $48.
Wendy's: Most Wendy's locations will be open on New Year's Eve and New Year's Day. And they're offering some deals. You can get 2 for $5 meals, a $5 bacon doublestack biggie bag and many 4 for $4 deals.