Review of Sunday Brunch at the National Hotel in Miami Beach
"Life is a Cabaret!" That's what you'll be singing after you experience "Jazz Brunch" at the National Hotel in Miami Beach. Wherever you live in South Florida,
that is, regardless of your distance from South Beach, it's worth the drive. Why? Because you will have a unique experience that tantalizes all your senses:
you'll see the exquisite $12 million renovations to an historic hotel treasure; you'll smell and taste an elaborate brunch buffet of fresh, gourmets foods while
listening to amazing Broadway quality voices as you dine—-and here's the fun part: it's your servers and bartenders up there belting out the tunes!
From the beginning, here's what to expect: you'll pull into the circular driveway in front of the hotel and the attendants jump to action to valet your car; you enter a spacious,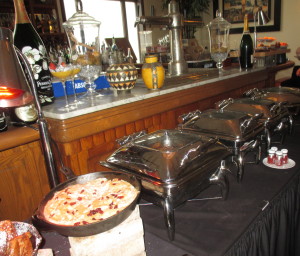 glamorous, breezy hotel lobby that has an intimate sitting room to the right, speckled with people on black cushy sofas quietly reading. We were lucky to be greeted by
beautiful, svelte Nicole Whitaker, the Director of Sales & Marketing for the National Hotel. She graciously showed us around as if proudly
showing off her own private mansion. Naturally we were attracted first to the room that was filled with luscious looking foods. Each length of a large, square bar area
was filled with goodies– cheeses, meats, smoked salmon, mushrooms on one side; breakfast fare on the front ledge (grilled sausages, bacon) and a
bread station on the third side with all kinds of rolls, croissants and baked goods you can imagine. A chef at a separate carving station on one side of the room
prepared omelets with your choice of 'fixin's" and a platter of perfectly marinated and grilled churrasco (beef) not to be missed. A separate table featured various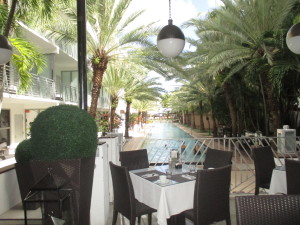 salad ingredients but it was the dessert table that could defy any human's ability to resist. That dessert table, a party for your eyes, beckons you to
try the lighter-than-pudding flan with its crispy layer of brown sugar on top, the mini-assorted cakes and the little cups filled with tres leches or chocolate mousse. What
a challenge to hold off and save room for these sweet treasures later.
Just as you won't want to miss savoring all the varied brunch offerings, you'll want to take in every perfect note of every perfect song by the
performers. You're in a kind of Art Deco-Feasting-Broadway heaven! Pianist, Singer, Songwriter extraordinaire, Doug Repetti, plays and sings a remarkable variety
of music from show tunes to Billy Joel, Phil Collins, Amy Winehouse, and anything requested. Is there any music he doesn't know?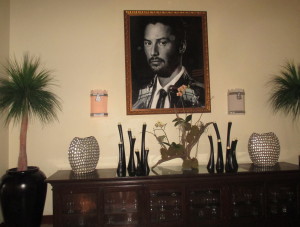 After x number of plates of food, a walk and stretch was in order, and Nicole gave us a grand tour. What a surprise awaited us outdoors in the
back of the hotel—a gleaming Infinity Pool, the largest in South Beach (203 feet long) and a perfect challenge for the most athletic die-hard lap swimmer.
The tidy cabanas that lined the sides of the pool can be rented for $150 a day and make this a perfect place for a "Stay-cation," especially considering the discounted
rates for Florida residents. The 10,000 sq. ft. Aqua Bar Lounge just before the path that leads out to the beach makes this the ideal outdoor party place.
Just imagine the awesome upcoming "Full Moon Party" complete with outdoor bar, lounges, DJ and Firedancers.
The Sunday Jazz Brunch runs from 11am to 3pm, and I just want to sit there forever in that gorgeous ambiance, sipping champagne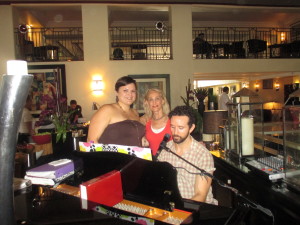 mimosas, taking in the huge celebrity photographs that surround the room (Keanu Reeves looks especially handsome), feasting on endless gourmet
morsels, and delighting in the extraordinary voices of my singing bartenders and servers.
By Deby Goldfarb, Owner of Stepping Out Florida -Event Website and Restaurant Writer for Simply the Best Magazine
National Hotel, 1677 Collins Avenue, Miami Beach, FL 305-423-7211- Sunday Brunch from 11am to 3pm; $39 per person; $19.50 for children; Bottomless  Mimosa Package an additional $25 per person. Thank you to Harper Edgcumbe, Assistant Account Executive at The Dana Agency; Nicole Whitaker, Director of  Sales & Marketing at the National Hotel; and Doug Repetti for the outstanding piano music; and to Edison Farrow, Entertainment Manager, for providing such
a spectacular musical cabaret for our dining pleasure.