RESTAURANT REVIEW:  By Deby Goldfarb, Restaurant Writer for Simply the Best Magazine 
What can you say when you truly think you have found Italy in Miami Beach?  You say Arnold's famous "Terminator" line: "I'll be back!"  It's no wonder that Cafe Prima Pasta has not only remained for 22 years in this area but has grown to become legendary, setting the bar that is unreachable by other restaurants.  Plain and simply put, its food is fresh and authentic. The bustling bar and restaurant area are bathed in a hot red hue. Celebrity-signed photos surround all the upper sections of the walls, creating a 'Who's Who" of visitors from among the huge and loyal following of fans ….wait, was that Matt Damon who just walked in? (By the way, both he and Dwayne Wade dine here.) This used to be a small dining room in an out-of-the-way area but now it has expanded to a 140 seat, 3-sectioned dining area next to the bar section that feels like a cross between a funky bistro and a home-style ristorante in Napoli. Every table was filled on our Wednesday visit so you'll have to think ahead to get a weekend reservation. You can always opt to dine outside on the romantic front patio now that evenings are cooling down,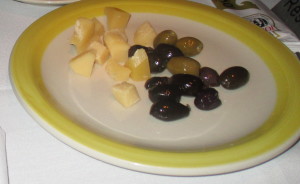 Giuseppe, from Naples, Italy, is the friendly and movie-star-handsome General Manager. He greets you, escorts you to your table and immediately makes you feel welcome and at home. A simple plate of fresh parmesan cheese pieces and olives are presented as soon as you are seated. So, sit back, relax and watch Giuseppe welcome groups of guests, sometimes with kisses on each cheek, sometimes speaking in Italian, but always making each feel like "familia" even when they are coming in with little children to first sit down at 10pm.  He moves around from table to table all evening, chatting with guests, asking how everything is, and keeping sure that every detail is perfect.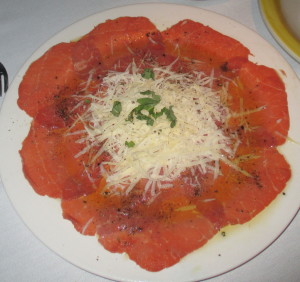 Our first course, Carpaccio di Manzo has very thin, delicate slices of filet mignon draped elegantly on the plate and drizzled with EVOO (Extra Virgin Olive Oil), with a little lemon, fresh, shaved Parmesan cheese in the middle for a delicious garnish and a twist of ground pepper. Our pretty servers: Victoria from Argentina and Mayer from Marbella, Spain are pretty, friendly and attentive without being intrusive. Favoloso!  They don't stop moving for a minute—good thing they are young and energetic! Eggplant Rollatini comes next, made with oh-so light ricotta, and a layer of marinara sauce with artisenal cheeses melted on top.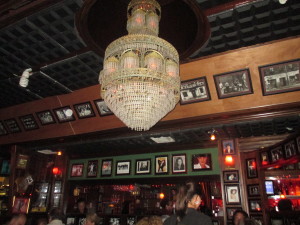 Yes, there's a 'thing' about Italian sauces and it's got to be made just right. Having recently returned from the "North End" or "Little Italy' in Boston, the verdict is: there's no comparison. Not only did they want to stick us with an up-charge for homemade pasta, but their marinara didn't cut it. It was thin and watery, and tasted like someone tried to open a jar of sauce and enhance it.   The pasta is all homemade at Cafe Prima Pasta and the sauce is another story entirely. It tasted like mama was back there in the kitchen wearing her apron all dotted with the badges of fresh tomato stains while stirring a big pot of bubbling sauce she made from scratch.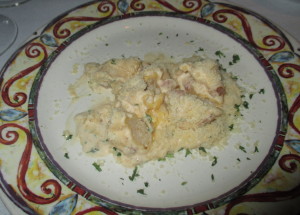 Next came our server, Victoria's, favorite dish: Fiocchi Rapera- Write it down to remember it! She was right!  It's pasta filled with three or four different cheeses, topped with prosciutto and creamy truffle sauce— and there's a secret ingredient.  Guissppe, didn't want to tell us but we later pried out of our server (sh-h-h, it was pear)
Next up: Lobster and Shrimp Risotto–OMG! You will think you died and went to heaven when you taste this creation! It spreads out  on the plate, looking like a cross between baked beans and sloppy joes, topped with a large basil leaf decoration. But your taste buds will scream with delighted surprise on the first bite of seafood flavor.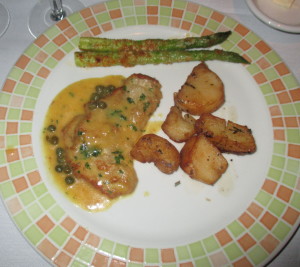 You've probably had Veal Piccata before but you've never had THIS Veal Piccata. – The note on the menu claims this as "The Best in the World" and whatever it is that they do to the standard veal, lemon, white wine and capers–they are right! They are not boasting–they are simply stating the fact. They win, hands down, and if you try it, you'll agree it's a winner.
Last but not least, the Branzino alla Caccia: This is perfect for all of my women friends who are forever dieting and in search of a dish that is impossibly light and healthy yet outrageously delicious. This is it– fresh Branzino, a European Sea Bass from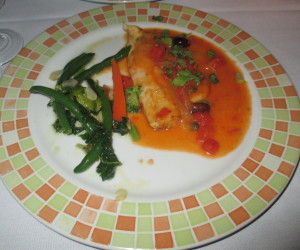 Northern Italy prepared with tomatoes, capers, onions and olives. And, of course, ladies, it's served with healthy fresh green beans and veggies on the side.
For those of us recognizing that this is a very special place, with very special recipes, and with the owner's mother, Carla,  baking fresh breads and desserts daily—-we plan to cave, and splurge on dessert.  A slice of Tartufo Negro, rich chocolate cake or a slice of creamy cheesecake is always balanced on the plate with bright, juicy fresh strawberries on the side. The must-try and not-to-miss is the light and airy, cocoa powder-dusted, Tiramisu with mascarpone cheese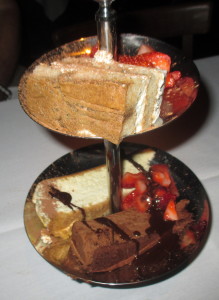 that literally melts in your mouth in an exquisite burst that must be experienced.
After dinner coffee is going to require some choices. The ultra fancy "Coffee Bar" features more than half a dozen types of coffees: what's your pleasure? Coffee with a sweet liqueur such as Frangelico, Baileys or Godiva? Cappacino? A frothy Cafe Macciatto? A very rich espresso?  Or perhaps a simple and satisfying Cafe American?
No matter what, you're going to love this place! It's got the best bar scene and has been hailed by The New York Times as the best daily Happy Hour.  It wins in every arena:  the decor, the service, and, of course, the extraordinary food. As one patron said when he tasted the first morsel of his first dish, "Holy Moly. This is to die for."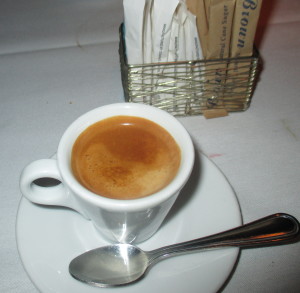 Café Prima Pasta (With Gen. Mgr., Giuseppe-photo)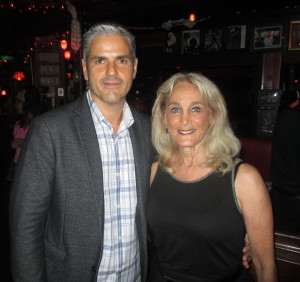 414 71st Street
Miami Beach, FL 33141