To Check out the current IMAX Movies, Traveling Exhibits, Permanent Exhibits, Special Eventsetc.:  Museum of Discovery and Science & AutoNation IMAX 3D Theater, 401 S.W. Second Street • Fort Lauderdale, FL 33312   954-713-0904 www.mods.org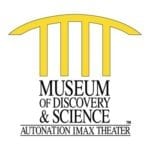 There is always something new happening at the Museum of Discovery and Science! There are hundreds of interactive exhibits including an outdoor Science Park, take a ride on the Everglades Airboat Adventure, experience hurricane force winds in the Storm Center, dig for fossils alongside a giant prehistoric megalodon, get close to a confrontation between a saber-toothed cat and an Imperial mammoth, and enjoy the playful antics of North American river otters in their two-story indoor/outdoor habitat. See exciting science demonstrations and presentations by community experts. Discover the amazing Everglades in the Florida EcoScapes exhibit. Hang out with bats, turtles and sharks. Meet an alligator and be charmed by a 6-foot-long snake. Take a ride to Mars or soar through the skies in an FA-18 cockpit simulator. And immerse yourself in a six-story-high film adventure at the AutoNation® IMAX 3D Theater, home of the BIGGEST screen in South Florida featuring IMAX with Laser. Whether you're two or 92 visit the Museum of Discovery and Science and enjoy a full day of  fun!
IMAX with Laser now illuminating the AutoNation IMAX 3D Theatre
The science of cinema has been raised to the level of Magic at the AutoNation IMAX 3D Theatre now that IMAX with Laser is illuminating the six story screen by lasers. This new technology with dual 4K laser projectors has revolutionized the way we experience 3D films on the big screen. The new laser projector technology offers brighter images, intense colors, and incredible detail that will leave you in awe.
There's also a next-generation immersive 12-channel sound system featuring 114 speakers capable of 52,000 watts of digital sound. Whether it's a pin drop or feeling the heart-palpitating force of a volcano, audiences will experience a new kind of visceral sound experience.
IMAX with Laser is a blend of science and art to deliver a cinema experience that suspends disbelief and transports audiences to new worlds. It's the difference between watching a movie and being a part of one. The AutoNation IMAX 3D Theater is the only place in Florida where you can experience the power of IMAX with Laser.
More information here: http://www.mods.org/IMAX/Laser/4K%20Laser/4K_Laser.html
IMAX® FILMS – NOW SHOWING
CLASSIC DOCUMENTARY FILMS
BACKYARD WILDERNESS 3D
Now Showing through February 14, 2019
Backyard Wilderness will surprise and entertain viewers with the unexpected wonders of nature that are right under our noses-in our own backyards. Spanning a seasonal year around a suburban home, the film displays a stunning array of unique wildlife images and behavior-all captured by cameras mounted inside dens and nests, and moving along the forest floor and pond bottom, to reveal its inhabitants in rare and breathtaking intimacy. We follow Katie, a young girl, and her modern family living next to the woods that are blind to the real-life spectacle around them, absorbed by an array of electronic devices in their busy lives. Katie gradually discovers the intricate secrets that nature has hidden so close to her front door and we experience the joy she finds in her interactions with this new world. The film reminds us that Wi-Fi is not the only connection that matters and that sometimes in ordinary places, you can uncover extraordinary things that could transform you forever–you just need to step outside.
Images: https://www.dropbox.com/sh/c6ysr8dtz97hbru/AABG3sZ5LdQZafdXQKCshb-Ba?dl=0
PANDAS 3D
Now Showing through December 31, 2018
Join panda cubs raised in captivity in China as they learn to "go wild." Using techniques learned in rearing orphan black bears, Chinese and American wildlife biologists team up to bring captive born pandas back to their natural habitat, work critical to saving native panda populations. Filmed on location in Chengdu, China and New Hampshire. Tickets available at the Box Office or by phone 954.713.0930.
Images: https://www.dropbox.com/sh/r2izmeqzedfdawp/AABmfrH8q3ZolFHfHfZkKhwDa?dl=0
CLASSIC DOCUMENTARY FILMS:
GREAT BEAR RAINFOREST 3D
Opening February 15, 2019
This beautiful giant screen film is about one of the rarest animals on Earth – the fabled all-white Spirit Bear. These remarkable creatures live in the lush temperate rainforests of British Columbia on Canada's West Coast, where they hold almost mythic status among the region's indigenous people. Shot exclusively for the giant screen, GREAT BEAR RAINFOREST will offer a remarkable journey into one of the planet's most spectacular wildernesses – a land of wolves, grizzly bears, humpback whales, sea lions, sea otters and others – as it explores the secret world of the Spirit Bear. Filmmakers Ian McAllister and Jeff Turner and executive producer Kyle Washington and Byron Horner of Spirit Bear Entertainment are partnering with MacGillivray Freeman Films on this cinematic journey.
Website: http://macgillivrayfreeman.com/project/great-bear-rainforest/
SUPERPOWER DOGS 3D
Opening April 19, 2019
Join an immersive IMAX® adventure to experience the life-saving superpowers and extraordinary bravery of some of the world's most amazing dogs. In this inspiring true story, our best friends are also real-life superheroes. Journey around the globe to meet remarkable dogs who save lives and discover the powerful bond they share with their human partners. Follow Halo, a rookie puppy training to join one of the most elite disaster response teams in America, that is part of the Miami-Dade Fire Rescue team. Meet Henry, an avalanche rescue expert in the Canadian Rockies, Reef, a Newfoundland lifeguard with the Italian coastguard, Ricochet, a Californian surf legend helping people with special needs, and the Bloodhound brothers, Tipper & Tony, who are leading the fight to save endangered species in Africa. As we discover the incredible abilities of dogs and the astonishing science behind their superpowers, we'll never look at our best friends the same way again!
Film Website: https://superpowerdogs.com/