Dine with your pooch on these patios, decks and courtyards: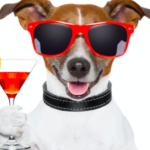 BOYNTON BEACH
Hurricane Alley Raw Bar and Restaurant
The Doggie Bites menu of cuisine for canines includes Roast Beef Ends ($4), Sliced Roast Beef ($5.95), the Harley Burger with no bun and with or without cheese ($5), Bacon (four slices for $4), Cheese (two slices of American cheese for $1.95), Grilled Cheese ($6.95), Grilled Salmon ($9) and Rice Pilaf ($3)
 DELRAY BEACH
Boston's has a front patio for furry friends to hang out, plus there is a "pooch menu" that includes Rover Easy scrambled eggs ($3), Hot Diggity Dog all-beef hot dog without the bun and cut into small pieces ($4), Hen House Chicken Strips grilled and sliced boneless chicken breast ($5), Half Hounder of ground Angus beef – natural or cooked ($6), Happy Puppy fire-seared steak ($9) and non-alcoholic Bowser Beer ($4).
FORT LAUDERDALE
1200 E. Las Olas Blvd. #101, Fort Lauderdale. 954-994-1416. CasaSensei.com.
This Las Olas Boulevard eatery that pairs Pan-Asian and Latin American flavors will launch an extensive dog menu as well as "Lucky Dog Happy Hours" on their waterfront patio later this summer. Come back to this post for details as they come in.
Kelly's Landing New England Seafood
1305 SE 17th St, Fort Lauderdale. 954-760-7009. KellysLanding.com.
Dogs get free dog biscuits along with, of course, all the water they can lap up.
Shooters Waterfront
3033 NE 32nd Ave., Fort Lauderdale. 954-566-2855. ShootersWaterfront.com.
This iconic Intracoastal restaurant has a doggy menu with savory, veterinary-approved meals ($8 and $14) including Ocean Reef Turkey, Boca Chica Chicken and Bahia Beef. The menu is designed by Meals For Dogs in Fort Lauderdale.
LIGHTHOUSE POINT
Nauti Dawg Marina Cafe
2841 Marina Circle, Lighthouse Point. 954-941-0246. NautiDawg.com.
This casual waterfront cafe has a yappy hour every Monday from 11:30 a.m. to 9 p.m. when entrees for dogs are half-price. But the For The Dawgs menu is available at regular prices with every service and includes dishes that are grilled without spices and cut into bite-sized pieces. Those menu items include chicken breast ($7), hamburger ($8), cheeseburger ($9), hot "dawg" ($6), bacon ($5), three scrambled eggs ($6) and filet of beef ($20).
WEST PALM BEACH
Pistache French Bistro
101 N Clematis St., West Palm Beach. 561-833-5090. PistacheWPB.com.
Well-behaved canines and their friends are welcome on Pistache's covered patio during brunch, lunch or dinner service. Diners' fur babies get a bowl of chilled water and can order nibbles ($6-$30 a la carte prices) such as grilled chicken, salmon, steak and/or a scoop of vanilla ice cream. As with two-legged customers, four-legged customers get a French baguette for free.