LET'S DRESS UP, 'STEP OUT', and ENJOY THIS BEAUTIFUL HOLIDAY!

(& Scroll down: See 6 NEW WINES FOR PASSOVER!)
Passover Dinner For Singles
(And Friends!)  (And Everyone!)
Pavilion Grille      Thursday       April 6, 2023          6pm
                           EVERYONE IS WELCOME!
NOTHING RELIGIOUS– JUST DELICIOUS!
LAST YEAR WE HAD MORE THAN 50 ATTEND!
JOIN US! DON'T BE ALONE FOR THE HOLIDAYS!
                     Join us on the 2nd Night of Passover

SAME time,   SAME place,  SAME festive evening!
DATE:    Thursday, April 6,  at 6pm
PLACE: Pavilion Grille, 301 Yamato Road, Boca Raton, FL 33431
COST:    4-Course Dinner: $60 Total (INCLUDES Tax & Gratuity)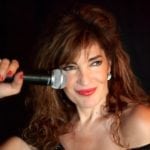 INCLUDES:  Stay After Dinner For Dance Music by "Leiza Michaels" (At No Extra Charge)
MENU:
INCLUDES 4 COURSE DINNER + GLASS OF KOSHER HOLIDAY WINE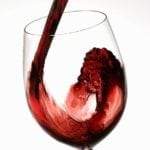 -Homemade Chicken Matzoh Ball Soup
-Tossed salad with a variety of dressing choices, "Charoset"
-Choice of: Sliced, braised Brisket of Beef, or Spice and Herb Half Roasted Chicken, or Fillet of Salmon with Orange Citrus Glaze
-Roasted Potatoes and Seasonal Vegetables
-Traditional Passover Dessert  
(Vegan / Vegetarian / Gluten-Free Platter with Pre-Order Only)
                    JOIN US!!!
TO PAY BY CHECK: Make check for $60.00  to "Stepping Out Florida" Include your email address, phone number, and choice of entree.  To be sure to reserve a seat: Mail by April 5 to:
Stepping Out Florida   c/o Deby Goldfarb
6547 Via Regina
Boca Raton, FL 33433
TO PAY ONLINE: (PayPal is safe & easy. You do NOT need to sign up or be a 'member' or sign up. JustCLICK HERE.       (START ANEW for each new person separately.) Email me your entree choice. I will send you an email confirmation when payment is received.  (Note: PayPal charges $1.75 fee so the total is $61.75)     Or CLICK "BUY NOW" BELOW:
QUESTIONS?
Deby:   Email: Debfarb1@gmail.com  or call 561-929-4449
    www.SteppingOutFlorida.com
ADDRESS:  The event is held at Pavilion Grille, 301 Yamato Road, Boca Raton, FL 33431    www.PavilionGrille.com  561-912-0000
LET'S DRESS UP, "STEP OUT"  & ENJOY THIS HAPPY HOLIDAY!
Open to all faiths, and meant to celebrate the meaning of the holiday:
Joy of freedom and togetherness of family and friends. Join us for a lovely evening of dinner, dancing and joyous holiday spirit!
___________________________________________________
6 Wines That Will Knock Your "Garbayeem" (Socks) Off!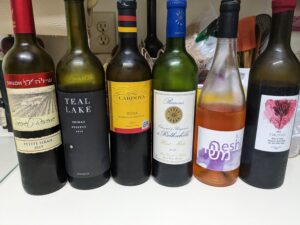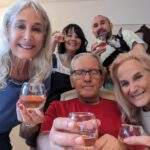 Check Out These Spectacular NEW Wines Sold in Wine Stores for Passover This Year!

Passover is around the corner and, if you are following in a Haggadah at a Seder dinner, you'll know that we will be toasting 4 cups of wine with the Mishpocha. (By the way, four cups of wine are sipped at each important point as the story of Exodus is told and are supposed to represent the freedom of the Israelites from slavery under the Egyptians.) 

So it doesn't say in the Book that we must ONLY sip 4 cups of wine nor does it say that we must stick to fruity Manischewitz (Concord Grape, Blackberry or Cream White) or the other classic, Mogan David, since 1933, (also now in Pomegranate.)  In fact, many of the smaller (and larger) wine companies have begun to realize that Passover can be big business considering the widespread yet targeted holiday drinking audience. 

We did a wine-tasting of a half dozen of the many AWESOME offerings available today, thanks to PR expert Vicki Garfinkel Jakubovic and 

Royal Wine Corp., providing wines that pair well with traditional, Vegan and Vegetarian Seders / Dinners.  The 8-day Holiday begins at sundown APRIL 5 until April 13, and is celebrated around the world with 2 nights of festive meals (the SEDER), and lots of wine so here's some ideas guaranteed to make a joyous and tasty 2023 meal.  By the way,  the folks at Royal Wine Corp., the largest manufacturer, importer, and exporter of Kosher wine and spirits, offers a large portfolio of wines from around the world, and in price points from $5-$500. It is so delightful that wines have a central role in this holiday so here's our take and feedback on those we feel deserve center stage from our sampling of wines from 6 countries:    Italy, Israel, Spain, South Africa, Australia and France.  

The general response from our tasters:  "No way do they taste like Passover wines!"

ITALY:

   From Toscana (Tuscany)– "MESHI", a refreshing, dry Rose. 

COMMENTS by our tasters

:  Very nice, would never guess it was Kosher, sharp, crisp and bright, light and summery, perfect for washing down the matzoh!

ISRAEL:

  2019 "SHILOH SECRET RESERVE"- PETIT SIRAH- "Secret Reserve" from the Judean Hills– $49.99 -Shiloh winery is located in the heart of the historic wine region of Israel renewing the history of the past 3000 years by producing the finest wines. The grape clusters for this wine were harvested before dawn and aged in French Oak barrels for 18 months. Dark and deep purple color with amazing spicy aromas and complex fruit flavors, this wine is unfiltered and beautifully balanced, all captured by Shiloh's winemaker Amichai Lurie. 

COMMENTS by our tasters:

Slightly dry through mouthfeel, deep fruit flavors of blackberry and cherry, doesn't taste like a kosher wine at all.

SPAIN

– RAMON CORDOVA-RIOJA- Produced from 100% Tempanillo grapes which are carefully selected from old vines in the town of Haro, the capital of the Rioja.

COMMENTS by our tasters:Light, not full-bodied so it pairs with many entrees, very smooth, best Rioja I've ever had, not dry

SOUTH AFRICA

– 2019 "ESSA"–$45 – A Bordeaux style red blend from South Africa made by Boston-raised, California-trained winemaker Joshua Rynderman, this wine shows the rich, ripe fruit of the new world with the earthy nuances of the old world that inspired its creator.  The grapes come from the greatest wards in South Africa to create wines as unique as the areas they are grown in. 

COMMENTS by our tasters:

good bouquet on the nose, fruity and sweet on the first sip, lots of raspberry and plums, better chilled than as it warms

AUSTRALIA

– 2019 TEAL LAKE -SHIRAZ RESERVE- This wine was crafted from the finest Shiraz grapes and harvested from  one of the leading vineyards in South Eastern Australia.  The opulent red color, the spicy cherries and flavors of ripe berry make this a truly memorable wine that is food-friendly and pairs well with spicy pasta, grilled beef or chicken dishes. 

COMMENTS by our tasters:

 a favorite, just delicious, sweet at first but dry finish, cherries

FRANCE:

BARONS deROTHSCHILD HAUT-MEDOC– $34.99 – A classic blend of 85% Merlot and 15% Cabernet Sauvignon that has been aged in French Oak barrels for 12 months, this wine was the first high quality dry kosher Bordeaux when first released in 1986. More than remaining consistent, its quality never stopped improving. 

COMMENTS by our tasters:Spectacular, elegant, extraordinary, subtle, smooth, the best, most complex

SUMMARY BY OUR TASTERS: 

  IMPRESSIVE! NONE TASTE LIKE PASSOVER WINES. NONE TASTE LIKE OUR IDEA OF KOSHER WINES!