WHAT'S THERE TO DO TONIGHT?
                                                         THURSDAY,    OCTOBER 31
                                                       ____________________________________ 
OCTOBER 31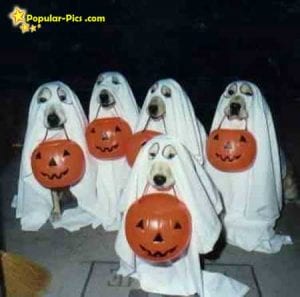 HALLOWEEN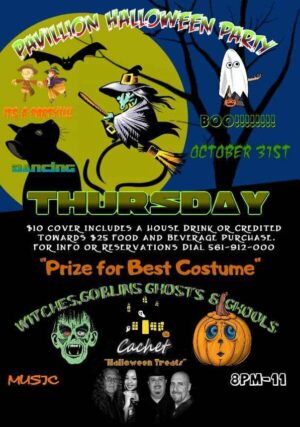 Pavilion Grille                                             
Halloween Party with Cachet Band!
Prize for Best Costume!
Come on in! It will be great music and a great party, too!—Everybody Dance! Enjoy the new Dance Floor! We love "Cachet Band"!  They sing a terrific variety:  Latin, Top 40 Music, Disco, Motown, Oldies, 50's 60's and much more; Come Meet, Mix, Mingle, Dine, and Dance to the best dance music at the Pavilion Grille in Boca Raton!
Both Singles and Couples welcome! Dinner served from 6pm; Music starts at 8pm. Admission is $10 which includes a FREE House Drink
or may be credited toward $25 food or beverage; Music, dance, and fun tonight! All ages! Call 561-912-0000 for reservations or more information. Singles and Couples welcome!
Pavilion Grille, 301 Yamato Rd, Boca Raton, 33431, is located in the lobby of the Seeman Holtz Building located on the NE corner of the intersection of Dixie Hwy and Yamato Road, and has distinctive large glass sides. Just park in the lot or garage and enter the lobby to a world of music and dancing. Directions: Take I-95 and exit at Yamato Rd., Boca Raton. Go east and turn left on Dixie Hwy. Parking driveway is on the right. There is a large FREE parking lot area and also a parking garage on the premises. Pavilion Grille, 301 Yamato Road, Boca Raton, FL 33431  PavilionGrille.com  Come on in to the HOTTEST spot in Boca!
The Week Ahead: Friday, November 1: Joey Dale and his band & Oldies Night; Saturday, November 2: Angleo Perrone and Oldies, with his new band; Sunday, October 27: Fusion Band
AND… TUESDAY, November 5,  "It Takes Two" Band will be in the house! Join us!  TUESDAY IS well known to be a GREAT NIGHT for Dancing and always a good crowd!
(Note: EVERYONE wants to rent our venue with new dance floor for private parties! Think of us for your next party!)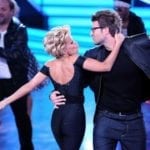 MORE: Two-For-One Drinks for Happy Hour : 5:00pm – 7:00pm, Tuesday – Friday: small plates start at $6; drink specials $5 -$8; Dinner served Tuesday through Saturday from 6PM and Lunch from Tuesday through Friday from 12 noon to 3:00 PM   Make dinner reservations  at 561-912-0000 
                                                   New Dance Floor!
                                                   New Flooring!
                                                   New Furniture!
                                                   New Chef!
The Pavilion's New Chef Cristian, formally of Josephine's, Tavolino's and Casa de Angelo will add his distinct Italian touch to our menu.
Dinner Specials Nightly ( Special Pricing) and the return of the Three Course Dinner!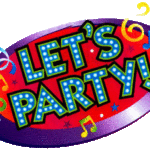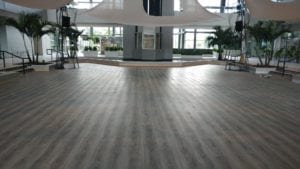 Pavilion: SPECIAL NOTE: Come and dance! We are proud of our NEW DANCE FLOOR! Wow! Join us!
_________________________________________________________________________________________
October 31- Halloween at The Addison-"Neon Nights"
7:30pm- An awesome event of delicious catering, an open-bar, live entertainment and outrageous event production.Tickets are $110 for early bird (ends 9/30/2019), $125 for general admission and $250 for VIP (includes three-course, table-side dinner service, champagne bottle service and complimentary valet parking. )All tickets include entry, food, open-bar and entertainment. VIP benefits include a three-course, table-side dinner, champagne bottle service and complimentary valet parking. The theme this year is "Neon Nights" and will feature a glow-in-the-dark;  Voted "Event of the Year" by Boca Magazine, this year's theme is "Neon Nights" and will feature a glow-in-the-dark theme styled by Daniel Events. Located at 2 East Camino Real, Boca Raton 33432   For more info, call 561-372-0568 or email:  special[email protected]  For more information and tickets, visit: AddisonHalloween.com
October 31 to November 1-

 Enigma Haunt
Returns again this year to Boca Raton. If you've never been there, get prepared for two floors of terror experiences that can take over an hour to cover in what used to be a Bally's Gym. The THREE haunted houses make up Enigma Haunt;  Enigma Haunt is at 1751 N. Military Trail, Boca Raton, and is open 7 to 10:30 p.m. Thursdays and Sundays as well as 7 to 11:45 p.m. Fridays and Saturdays. Tickets are $25, $30 and $45. For more information, call 855-994-2868, email [email protected] or visit EnigmaHaunt.com.
October 31 and November 1 and 2 -"Fright Nights"
For the 18th year, will be staged at West Palm Beach's South Florida Fairgrounds with its legendary haunted houses (this year there will be four) as well as magicians, stage show and  "scare zones." Located at 9067 Southern Blvd., West Palm Beach. The midway is open from 6 to 11 p.m. (midnight on Fridays and Saturdays), while the haunted house opens at 7 p.m. Tickets are $25 until Oct. 10. After that, regular admission is $30. For an additional $5, you can move to the front of the line with a RIP (Rest in Peace, or…Really Important Person) ticket. The RIP tickets are limited and may be bought on the midway each evening. "Fright Nights" takes place Oct. 31 and Nov. 1-2. For more information, visit MyFrightNights.com.
OCTOBER 31-Halloween Karaoke & Costume Contest!
Karaoke Night on Thursdays at Muddy Waters –THE BEST KARAOKE!
Prizes for winning costumes are Muddy Waters gift cards – $100 (1st), $75 (2nd) and $50 (3rd). We will have door prizes and all kinds of fun and specials all night long!!
7pm Karaoke-
Jammin' Jimmy and or KJ, Trish, at Muddy Waters. They've been hosting Karaoke on Thursdays at Muddy's for more than 14 years and have a great group of singers.  Great food, great service, and a fun atmosphere is what makes Muddy Waters. They only take reservations for parties of 8 or more, so get a group together if you want to reserve a table, and a $10 minimum per person at tables. You can call 954-428-6577 for info and reservations-Held at JByrd's Muddy Waters Restaurant- 2237 West Hillsboro Blvd, Deerfield Beach-It's the most fun! For more info,
 CLICK HERE 
or Scroll down for more details: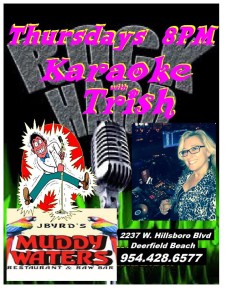 You won't believe how much is doing at Muddy's–EVERY night–CLICK HERE
SPECIAL EVENTS COMING UP:
NOVEMBER 2 Charcoal Barbecue!!  (First Saturday of every month)- Drink Specials All Day! LIVE BAND at 8pm!

October 31-Yelloween lights up HMF at The Breakers
The glam 1920s-meets-today HMF lounge at The Breakers in Palm Beach is hosting an "exquisitely haunted soiree" on Oct. 31, from 9 p.m. to 1 a.m. Costumes are encouraged and you'll be enjoying two complimentary drinks, such as the Eye See You cocktail with vodka, lychee juice and fresh lime. Food will include menu faves such as Wagyu beef sliders, specialty sushi rolls, decadent desserts and more. Cost is $150 per person. The Breakers, One S. County Road, Palm Beach; 561-659-8480  www.thebreakers.com
October 31-November 3-The 60th Annual Fort Lauderdale International Boat Show
One thousand exhibitors and more than 1,200 boats are on display at the exhibition that is widely regarded as the industry's top annual boating event. For Boats on Display, Seminars, Hours, Special Events, Tickets, Click here-   Address: 801 Seabreeze Blvd, Fort Lauderdale, FL 33316
October 31 to November 10- Hot Shoe Shuffle
Smash Jukebox Musical Opens Sparkling Season 7 at The Wick Theatre – Are you ready to 'cut a rug'? The Wick Theatre opens their seventh season with the Australian and West End smash hit, Hot Shoe Shuffle. This award-winning production features a cast of dynamic dancers tapping and singing their way through the biggest hits from the American Big Band era performed by a 10-piece live band.  Hot Shoe Shuffle is the ultimate in razzle dazzle tap! In 1992, the musical created by David Atkins tapped its way onto the stage in Sydney, Australia and became an instant success. The popularity of the show inspired a London production that resulted in a Olivier Award for best choreography and a nomination for Best Musical Production. The Wick's director, Jonathan Van Dyke, is working with choreographer Justin M. Lewis on the production. Van Dyke was a featured performer on America's Got Talent at Radio City Music Hall, as well as a co-creator of Tell-a-Vision, a technology and dance-based performance group. Van Dyke and Lewis have assembled an extraordinary cast with enormous energy and style. The musical concerns seven Tap Brothers, Spring, Slap, Buck, Wing, Tip, Tap and Slide, who learn of the death of their long-absent father. To claim their large inheritance, the brothers must rehearse and perform their Dad's legendary act—the Hot Shoe Shuffle and include their long-lost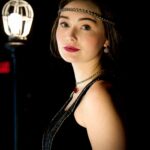 sister! The Wick Theatre is located at 7901 N. Federal Highway. Boca Raton, FL 33487  The show runs October 17-November 10, 2019; matinees at 2pm, evenings at 7:30pm. Tickets are $75-$85 at www.thewick.org or call 561-995-2333.
October 31 to November 2-  The

10th Annual Juried Art Contest – Loxahatchee Visions
Entries accepted: Saturday, October 26 – Sunday, November 2;  Reception and Award Presentation: Sunday, November 10, 1:00 p.m.;  The contest is open to all artists. Each artist may submit one or two works of art, inspired by "Loxahatchee Visions." Any media or mixed media may be used, with the exception of photography. (Save your photographs for next year's photo contest!) Each entry must be framed and ready for hanging. Wrapped canvas edges are fine. Size limit is 36″ on each side, including frame. Prizes will be awarded in 2 categories – Novice (through high school) and Adult (age 18 and older). First prize – $250; Second prize – $150; Third prize – $100. The entry fee is $10 for Friends members, volunteers and Refuge staff, and $25 for non-members. The fee is waived for Novices. Bring your artwork along with the entry form and entry fee in an envelope labeled "Friends Art Contest" to the Visitor Center. For the Contest Entry Form and the complete set of rules, go to:                  www.loxahatcheefriends.com/upload/Lox2019ArtContestForm.pdf  or CLICK HERE
80's and 90's Throwback Thursdays-Every Thursday-Ladies Drink FREE from 7pm to 8pm-80's Rock & Disco music-At Hurricane Sports Grill-10281 Pines Blvd., Pembroke Pines 33025
Trivia Night at Petanque-The restaurant hosts trivia every Thursday from 6 to 11 p.m., with the last Thursday of the month following a different theme. The top three teams get gift certificates! 517 Northwood Road, West Palm Beach; Call to confirm: 561-273-5441; petanquepb.com
Trivia Thursdays at Batch-DJ Rich Babalu leads trivia battles every Thursday from 7 to 9 p.m. at the restaurant's east patio. Entry is free, and participants can enjoy drink specials. Plus, prizes from stores in the Delray Marketplace! 14813 Lyons Road, Delray Beach; 561-877-0000; batchgastropub.com
Trivia-Brass Tap Trivia Challenge-Wilma McAwesome plays hostess to the trivia night every Thursday from 7:30 to 9:30 p.m. Gather a group, order a beer, and see how much you know for $75 worth of prizes! 50 N. Congress Ave., Boynton Beach; 561-239-7968;  brasstapbeerbar.com/boyntonbeach

"Free Roll"- Free Poker Tournaments-at the Big Easy Casino-(formerly "Mardi Gras" Casino)- 831 N Federal Hwy, Hallandale Beach, FL, 954-924-3200 or email:  [email protected]  Hours of Operation: Sunday-Thursday 9:00am-3:00am;  Friday & Saturday Open 24hrs-Free Tournaments every night at 6:50pm
Backyard Bash-Every Thursday-8pm-Beer and Food Specials-Beer Pong, Flip Cup, Corn Hole-all in our 4,500 square ft backyard! Well-behaved pups are welcome. Please pick up after your pets.Backyard Food Specials; Backyard Drink Specials; Happy Hour: Monday – Friday: 3pm – 7pm; Weekend Brunch: Saturday & Sunday: 11am – 4pm;The Butcher Shop Beer Garden & Grill, 209 6th Street • West Palm Beach   561-812-2336 butchershopbeergarden.com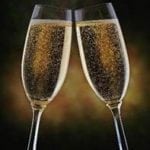 Ladies Night-Every Thursday-5PM to 8PM-Groups of 4 ladies or more receive a complimentary bottle of champagne; Martini's $7; glasses of champagne: $4; Margaritas : $3-At the Casino at Dania Beach-301 E. Dania Beach Blvd., Dania Beach 33004   www.CasinoDaniaBeach.com

"Gatsby's Joint"-  Hear live Jazz and Blues almost every night of the week-Happy Hour at 5pm-Music and dancing from 7pm to 11pm–Located at 2460 E Commercial Blvd, Fort Lauderdale-  Brand new restaurant…good food & drinks!   Call 754-332-2125 for reservations- For more info and to see who's performing tonight:   www.gatsbysjoints.com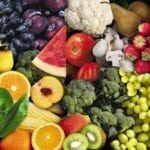 Farmer's Market Every Thursday-At Sunset, every Thursday,  CityPlace Pop-Up Farmer's Market comes alive with the finest locally ​sourced,​ ​in-season produce, flavored oils and vinegars, cheeses, raw Florida honey, flowers, container gardens, and sustainable seafood. The open air market also features chef-driven food and cocktail tastings. This week executive chef Miguel Santiago of Hilton West Palm Beach will be showcasing items from Galley's new farm-to-table menu, including: Tuna Poke, Burrata Salad, and WPB Mule (craft cocktail with Indian River grapefruit-infused vodka, fresh lime, and ginger beer);  Farmer's Market, 5:30-9 p.m.;Galley food tasting, 6-8 p.m.; Cost: Free;  Where: At CityPlace Plaza, 700 S. Rosemary Ave., West Palm Beach, FL 33401- For more information, call to confirm 561-366-1000 or CLICK HERE
Socrates Café-Facilitated discussions open to everyone who wishes to freely discuss a question which is chosen by vote. No enrollment. 1:30-3 p.m. Spanish River Library, 1501 Spanish River Blvd., Boca Raton. For more info and to confirm:  bocalibrary.org
Sea Turtle Talk-Meets 2 p.m. daily, weather permitting. Meet at sea turtle rehabilitation facility. Free, no reservations. Children under 18 must be with adult. Gumbo Limbo Nature Center, 1801 N. Ocean Blvd., Boca Raton, Call to confirm: 561-544-8615,  For more info:   gumbolimbo.org
The Poppin' and Hoppin' Special; Pizza & Pint Night-5pm to 8pm-At Whole Foods Market, Davie-From 5 pm – 8 pm-Grab a seat at the Watering Hole and enjoy a personal pizza and a pint for just $8 on Thursdays.  See you at the Watering Hole! Located at 1903 S. University Drive, Davie 33324 Call to confirm:  Phone: 954-916-3000
Clematis By Night-West Palm's favorite Thursday night tradition proves why it has been the "hot spot to chill" for more than 20 years. During Clematis by Night, guests will enjoy live music, food and drink specials and the hottest local social scene, creating an unmatched seaside Happy Hour setting-Various bands will perform from 6pm to 9pm at the waterfront-100 Clematis Street-For more information, please visit Wpb.org/events or follow the City of West Palm Beach on Facebook @CityofWPB, on Twitter @westpalmbch or on Instagram @westpalmbch.  or call to confirm: 561-822-1515
Networking Every Thursday-Coffee Open Networking Thursday-8:00AM – 8:45AM-$5 for coffee, bagels, fruit, danish and our famous oatmeal-We start at 8AM sharp and are out the door before 9:00AM-Held at Spoto's Oyster Bar -4560 PGA Blvd-Palm Beach Gardens -No Dues or Fees to Join-For more info, CLICK HERE
Blue Jean Blues–Ft. Lauderdale's Jazz and Blues Club- Happy Hour-5pm to 8pm–Different bands every Friday-9pm to 1am- Live music begins at 8pm- At 3320 NE 33rd St.-Ft. Lauderdale Fl 33308-(2 blks. N. of Oak. Pk. Blvd. & A1A)-www.bjblive.com
Boston's on the Beach-Classic Rock Night– 9pm-Nicely renovated with ocean-view dining upstairs-Great band plays Grateful Dead music every Sunday at  7pm-Never a cover-Always a good time-Every Mon: Reggae Night at 10pm-Every Thur: Classic Rock Night  at 9pm-40 S. Ocean Blvd–A1A in Delray Beach- 561-278-3364 At 40 S. Ocean Blvd.- (A1A)-Delray Beach 33483-Info: 561-278-3364- For info and bands playing each night, CLICK  HERE
Wine-tasting every Wednesday through Saturday- every week-at The Best Cellar-6pm-the best sit-down educational tasting of fine wines-comfortable and fun-(10% off on any purchase o 6 bottles or more) Cover: $20-( if you purchase of 6 bottles or more totaling $200, the 10% discount will offset the $20 admission)-also a perfect place for your next  meeting, function or special event-at 1408 NE 26th Street-Ft. Lauderdale (Wilton Manors) -954-630-8020 (Directions: I-95 to Oakland Blvd., east to Dixie Hwy., right on Dixie, left on 26th, in the plaza on the right)-For more info, CLICK HERE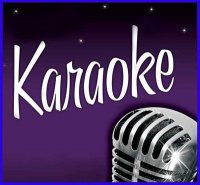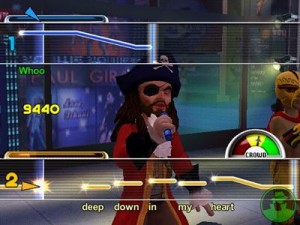 Karaoke Night at Muddy Waters-8pm-Join KJ Trish McGibbon (whose been here for almost 12 years!) Everyday has a different special (check them out on this website every day of the week!)-AND Happy Hour EVERYDAY from 4pm to 7pm AND ALL NIGHT ON MONDAYS-The lobster crates, rum barrels and swordfish on the walls and ceiling help you sing better (well, especially the rum)-2237 W Hillsboro Blvd.-Deerfield Beach 33442-Located on Hillsboro Blvd. just west of Military Trail on the north side-Phone: 954-428-6577  or  www.muddywatersrestaurant.com for this week's SPECIALS  or CLICK HERE